Today is Summer Solstice, the longest day of sunshine (or not, depending on where you live) of the year.
I always look forward to this day because I know that from today on the day light hours will be getting shorter and shorter till autumn and then… CHRISTMAS! (Said like a little kid looking out the window for Santa.)
Every year I swear that I will get shopping for the last half of the year birthdays and Christmas done early. So far my plans haveÂnot completelyÂcome to reality, but that doesn't stop me!
So this morning I am looking at financial planning and making sureÂmyÂplans are in place for the rest of this year and beyond.
Below are a couple of useful links:
*Â Clark Howard (who doesn't love Clark?! I like his radio show and his site is full of good tips and information)
*Â Tomorrow's Money (budget planning)
And just for fun, here's aÂquiz on figuring out whether you are a Financial Diva (for the ladies of course).
I am a Financial Diva in Training… eh hem

Financial Diva in Training!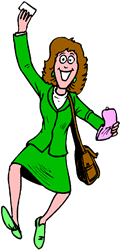 You try your hardest to save money and get ahead in your expenses, but sometimes new trendy clothes or your daily Venti Frappuccino habit seems to get in the way of becoming that Ultimate Financial Diva. While you might not always
have extra spending money everyday, you splurge when you deserve it …and
who doesn't deserve it every once in a while!
ÂÂÂÂÂÂ

Find
out what kind of finacial diva you are! at Womens-Finance.com

Â

Â